Fire on the Star

Fire on the Star
Vital statistics
Series
Seconds from Disaster
Title
Fire on the Star
Airdate
July 27, 2004
Disaster
M/S Scandinavian Star Fire
Date
April 7, 1990
Kind
Marine
Nature
Arson, Confusing Layout, Common Langage and Staff Training Lack
Fatalities
158
Fire on the Star is the 4th episode of Seconds from Disaster and unscrambles the cause of the fire.
An arsonist sets a fire on deck 3 of the Frederikshavn, Denmark-bound M/S Scandinavian Star, loaded with passengers and cars at Oslo, Norway. 158 people on board die from smoke inhalation.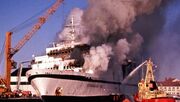 An arsonist ignited a lump of one of the cruise-ferry's guest room's matteress on fire and the fire spreads very quickly throughout the ship because of its flammable paint. When the crew smelt smoke, they immediately closed the fire-doors and sounded the alarm, but unfortunately, the alarm was too quiet and many sleeping guests are oblivious to the smoke and end up intoxicating themselves to death by breathing in the smoke. At the same time, those who escaped from their room after smelling the smoke quickly try to find a way out but unfortunately, some die going to the dead end as the ship's design and layout is very confusing. The lucky ones reachthe deck, grabbed the life-jackets, and jump overboard to wait for rescue.